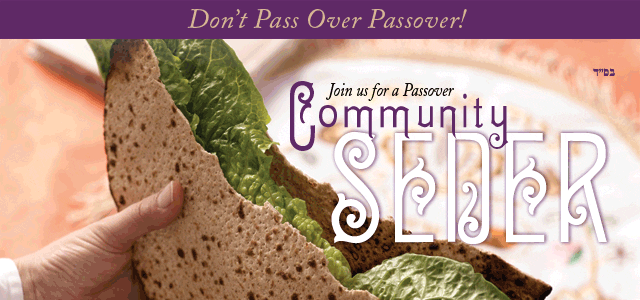 With Rabbi Mendy & Alta Goldstein
Friday, March 30, 7:00 pm 
Chabad of Naperville 1935 Brookdale Rd

Enjoy the holiday of freedom at an upbeat inspirational Seder, complete with a gourmet Passover dinner, the original hand-made Shmurah Matzah, and four cups of exquisite Kosher wine. Journey with us through the Haggadah, with traditional songs, stories, and spiritual insights. Our Seder is English friendly so everyone can feel welcome.
Early Bird Special by March 25th
Adult: $40
Child ( 4-12) $20 
After March 25th
Adult: $50
Child ( 4-12) $30 
If you or someone you know has trouble paying please don't hesitate to contact us, we will be happy to assist. 
If you have any questions or would like to make a reservation over the phone, 
630-344-9770